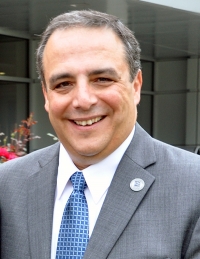 Welcome to Mountain Gateway Community College and congratulations on your choice to attend one of Virginia's premier community colleges.
Our goal is student success, and we provide a supportive environment in which you will gain a quality education whether you are pursuing an associate degree, certificate, and industry credential, or just coming back to college for a course or two.
As an effective and affordable comprehensive community college, with convenient locations, MGCC has a positive impact on the communities in this region by affirming the values of learning and service, enriching the lives of students, and enhancing the quality of life in the area.
Please visit our campus and experience the wonderful offerings here at MGCC.
For more than 60 years, we have been the higher education choice of thousands of students and alumni. We are the college you can stay close to home and go far!
Warmest regards,
Dr. John J. Rainone
Biography
On July 8, 2013, Dr. John J. Rainone became the fourth president of Mountain Gateway Community College. He brings over 30 years of experience as a teacher, administrator, and chief executive officer to this College.
Dr. Rainone received his Bachelor's and Master's degrees from Southern New Hampshire University and earned a doctoral degree from Nova Southeastern University. He is a first-generation college student and the first member of his family to earn an advanced degree. He is also a graduate of the League for Innovation Executive Institute and completed the Harvard University Seminar for First-Year Presidents.
A native of Providence, Rhode Island, he served in business and education as the training and education administrator for the New Hampshire Technical College at Manchester. He was on the founding team to build the newly created York County Community College (Maine) where he served the college for 18 years in various senior-level positions in workforce development, academic affairs, finance, and institutional advancement.
A passion of Dr. Rainone's is teaching and he brings over 33 years as an adjunct faculty member at the undergraduate and graduate levels in the areas of business research methods, teaching at the college level, nonprofit management, organizational behavior and leadership and fundraising and development.
Dr. Rainone serves as the Chair of the Rural Community College Alliance Board of Directors and has served as a Board of Director for the American Association of Community Colleges (AACC) and Chair of the Commission on Small and Rural Colleges, and a member of AACC's Task Force on Apprenticeships.  He is the immediate past Chief Volunteer Officer for the Alleghany YMCA, and immediate past Chair of the Alleghany Highlands Chamber of Commerce & Tourism.  He is a member of the Western Virginia Workforce Board, Virginia Foundation for Community College Education, Valley Innovations Council, Roanoke Regional Partnership, Alleghany Highlands Economic Development Corporation, and the Roanoke Valley-Alleghany Planning Commission.  He is also the past Chair of the Board for Lewis-Gale Hospital Alleghany, is an honorary board member of the Historic Masonic Theatre, and a 25-year member of Rotary International.  Rainone also serves as the Virginia Community College Statewide Chair for Phi Theta Kappa International (PTK) Society. 
In 2016, Dr. Rainone was awarded the "Emerging Leadership" Award from AACC as well as received the "Giving Back" Diversity Leadership Award from Insight into Diversity magazine. In 2021, Rainone was named "Entrepreneurial President of the Year" by the National Association for Community College Entrepreneurship. 
In addition, he received the Alumni Distinguished Service Award from Southern New Hampshire University, was recognized by the Seacoast (Maine and New Hampshire) Media Group as a "Mover and Shaker", and as the Rotarian of the Decade by Rotary District 7780.
He is an honorary member of PTK and has held the distinction of being a Certified Fundraising Executive (CFRE) since 2007. CFRE recognizes fundraising professionals in the nonprofit sector.