All of your academic records at MGCC are bound by the Family Educational Rights and Privacy Act (FERPA). Please see the FERPA website for details about these legal protections.
Transcripts
MGCC has authorized Parchment, Inc. to manage the secure ordering and delivery of official College transcript in an easy and efficient manner to colleges and universities, employers, and organizations around the globe.
To order your official MGCC transcript, please follow these steps:
Login to myMGCC from the MGCC homepage (www.mgcc.edu)
Click on the "Transcript Services" tile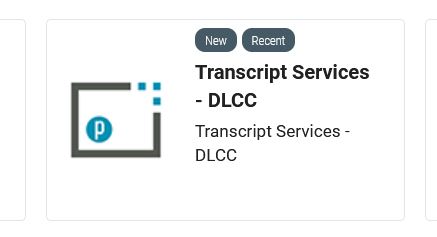 Follow the instructions to order your official transcript
If you don't know your MyMGCC username/password, please use the following link to go directly to the Parchment website,MGCC Parchment Storefront
Note: There is a $5.00 fee associated with each electronic transcript requested and a $7.50 fee associated with each printed transcript requested.
For questions regarding transcripts, please contact:
Phyllis Bartley
Phone: (540) 863-2823
Email: transcripts@mgcc.edu
Fax: (540) 863-2915
In accordance with the Family Educational Rights & Privacy Act of 1974, a student's academic record can only be released upon written authorization by the student.
Enrollment Verification
Mountain Gateway Community College has authorized the National Student Clearinghouse (NSC) to provide enrollment and degree verifications. MGCC no longer provides verifications by phone. There is a small fee for enrollment verifications.
The NSC can be contacted at:
Web: www.degreeverify.org
Mail: National Student Clearinghouse
13454 Sunrise Valley Drive, Suite 300
Herndon, VA 20171
For questions regarding enrollment and degree verification, please contact:
Phyllis Bartley - Records Clerk
Phone: (540) 863-2823
Email:pbartley@mgcc.edu
Grades
Final grade reports are available through myMGCC at the end of each semester, are part of your permanent record, and will be recorded on your official transcript.
For assistance, please contact Student Services at (540) 863-2820.
Retention of Student Records
MGCC retains student records in accordance with the policies established by the State Library of Virginia. The College will retain on a permanent basis an official record of a student's academic history (transcript).
The College also will maintain a separate student academic folder which may include, but not limited to, the following: application forms, standardized test results, drop/add forms and faculty grade reports. Information contained in the student academic folder will be retained in accordance with the policy and may be destroyed three years from the date of the student's separation from the College.