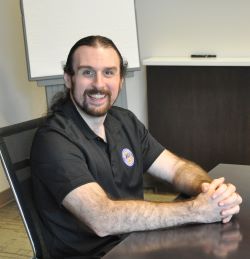 Mountain Gateway Community College is scheduled to open its first Career Center, with a mission to assist all MGCC students in locating gainful employment in their chosen field of study, at the beginning of the 2024 spring semester in January, according to Dr. Matt McGraw, MGCC Chief Workforce Officer.
                Rob Cantrell, who comes to MGCC from Blue Ridge Community College, where he served as a Workforce and Continuing Education IT web design and program manager, will be the director of the new MGCC Career Center, located in Warren Hall on the main campus in Clifton Forge.
               Among Cantrell's duties will be organizing job fairs, coordinating internships, maintaining a job board to connect employers with graduates, and delivering programs to improve employability of MGCC graduates, such as interview skills, resume writing and conducting effective job searches. Cantrell may assist not only current students, but recent graduates, as requested, and also students enrolled in non-credit credential workforce courses.
               The creation of a Career Center is the result of a Quality Enhancement Plan study, conducted over 14 months by an MGCC task force, in an effort to improve student learning and retention, explained Dr. McGraw. The College has offered career assistance in the past through other programs, but this is the first centrally located Career Center dedicated to helping students secure employment.
               Cantrell earned an Associate Degree from Blue Ridge Community College in 2019, and a Bachelor of Applied Arts and Sciences with a concentration in Organizational Supervision, Administration and Google IT from the University of North Texas in 2021. He is also an Amazon Web Services Certified Cloud Practitioner. He most recently conducted a JavaScript Boot Camp to prepare students with little to no programming experience for a career in the field of software and web development.
                For more information about the Career Center, contact Cantrell at rcantrell@mgcc.edu or (540) 863-2906.
Tags